Clinic of Neurology 3rd Faculty of Medicine Charles University and Thomayer University Hospital
Characteristics
Clinic of Neurology 3rd Faculty of Medicine Charles University and Thomayer University Hospital provides medical care in the field of specialist neurology for a catchment area of Prague with a population of 350.000 as well as counseling, diagnosis and treatment of patients referred from other regions of the Czech Republic. Clinic provides standard care in 62 beds and intensive care in 8 beds (intensive care unit, ICU).
The specialty of neurology covers the diagnosis and treatment of diseases affecting the central and peripheral nervous systems and functionally connected structures. This includes vascular diseases of the brain and spinal cord, dementia, epilepsy, headache, inflammatory diseases of the nervous system, tumors involving the nervous system, movement disorders, neuromuscular disorders, and painful syndromes in spinal affections (lower back pain). Various metabolic and degenerative disorders also fall within the scope of neurology.
To diagnose diseases of the neural system, several electrophysiological techniques are used, such as electroencephalography (EEG), electromyography (EMG) or evoked potentials (EP). Non-invasive imaging techniques (RTG, CT, MRI and Doppler ultrasound) are also available allowing for more accurate and faster diagnosis.
Patients requiring surgery are treated in collaboration with leading departments of neurosurgery in Prague, namely the Neurosurgery Clinic in the Central Military Hospital (Ústřední vojenská nemocnice or ÚVN in Czech), Department of Neurosurgery in the Královské Vinohrady University Hospital (Fakultní nemocnice Královské Vinohrady or FNKV in Czech), and the Department of Neurosurgery of the Prague-based Homolka Hospital (Nemocnice na Homolce, or NNH in Czech).
There is also close cooperation with the Institute of Occupational Health providing expertise on impairments of the peripheral nervous system and chronic intoxications.
---
Specialized centers
The Stroke Center of Thomayer University Hospital and Královské Vinohrady University Hospital (FNKV, see above)
The National Prion Diseases Reference Laboratory in Prague's Thomayer University Hospital (in cooperation with the Institute of Pathology and Molecular Medicine 3rd Faculty of Medicine Charles University and Thomayer University Hospital and the Clinic of Neurology 3rd Faculty of Medicine Charles University and Thomayer University Hospital)
The Center for Multiple Sclerosis and Demyelinising Diseases
---
Specialized outpatient units
Neurodegenerative disorders
Epilepsy
Diagnosis and treatment of headaches
Diagnosis and treatment of neuromuscular disorders
Speech therapy
Psychology
---
Electrophysiology Laboratories
Evoked Potentials (EP)
Electroencephalography (EEG)
Electromyography (EMG)
Laboratory for Carotid Ultrasonography
---
Education
Clinic of Neurology provides lifetime postgraduate education in neurology through courses on various topics related to neurology and interdisciplinary areas. There are ongoing teaching courses and internships in electrophysiological, neuropsychological examinations using ultrasound techniques for physicians from all over the country.
---
Science and Research
Research within the clinic and its research grant projects are focused primarily on neurodegenerative diseases of the peripheral and central nervous systems, and cerebrovascular disease prevention. There are ongoing clinical trials and cooperation in  projects such as the National Registry of Patients with Vascular Disease of the Brain.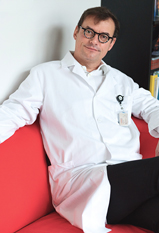 Head of the Clinic
Robert Rusina, MD, PhD.,
Associate Professor
robert.rusina@ftn.cz
+420 261 082 479
---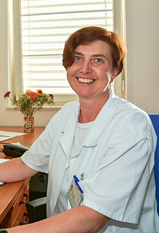 Chief of Physicians
Kateřina Matějová, MD
katerina.matejova@ftn.cz
+420 261 082 416
---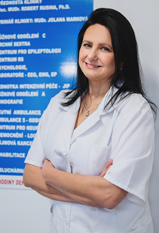 Head Nurse
Ing. Bc. Olga Stárková, DiS.
olga.starkova@ftn.cz
---
Contacts for
English-speaking guests
Specialized outpatient departments
+420 261 083 851
Department administrative assistants
+420 261 082 272
---
Location
building B2
---