Clinic of Anesthesiology and Critical Care 1st Faculty of Medicine Charles University and Thomayer University Hospital
Characteristics
Clinic of Anesthesiology and Critical Care 1st Faculty of Medicine Charles University and Thomayer University Hospital consists of a 12-bed ward for adult patients experiencing imminent failure of vital functions requiring life support and other intensive medical interventions (such as support for hemodynamic instability (hypertension/hypotension), airway or respiratory compromise (ventilatory support), acute renal failure, potentially lethal cardiac arrhythmias, or the cumulative effects of multiple organ failure, now more commonly referred to as multiple organ dysfunction syndrome). The clinic also performs intensive/invasive monitoring of patients in the critical hours after major surgery when deemed too unstable to be transferred to a less intensively monitored unit, and provides uninterrupted (24/7) resuscitation counseling medical service to all hospital departments.
In addition, perioperative anesthetic consultations are provided to all of the hospital´s operating theaters covering various aspects of anesthesia, sedation, and analgesia in prolonged or painful diagnostic interventions, and epidural anesthesia for regular labor and childbirth (delivery). The clinic cooperates with the Center of Pediatric Traumatology in providing comprehensive health care. Its outpatient department is involved in the management of chronic and unbearable pain for all age and risk groups of patients.
---
Education
The clinic´s employees participate in educational and training programs designed for 1st faculty of medicine Charles University School students in the areas of urgent medical care, first aid, basic knowledge of anesthesia, and in postgraduate educational courses run for nurses of the hospital´s nursing department.
---
Science and research
Sepsis in patients with failure of vital functions.
The clinic is involved in the monitoring and assessment of patients developing severe infections, sepsis, and septic shock, as well as identification of early biomarkers of infectious and noninfectious origin of SIRS (systemic inflammatory response syndrome) and tools predicting morbidity and mortality. For this purpose, molecular diagnostic techniques to identify clinically relevant bacterial infections are used.
A research grant assessing the efficacy of use of a helium-oxygen (heliox) mixture in patients with exacerbation of severe (advanced) chronic obstructive pulmonary disease (COPD) is currently under way to develop the indication criteria and a delivery system for optimal heliox-based treatment in terms of its cost-efficiency.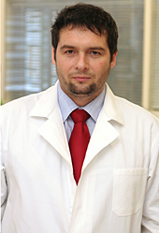 Head of the Clinic
Roman Zazula, MD, PhD.,
Associate Professor
roman.zazula@ftn.cz
+420 261 083 459
---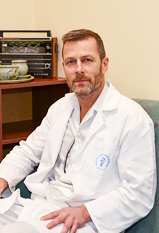 Chief of Physicians
Michal Moravec, MD
michal.moravec@ftn.cz
---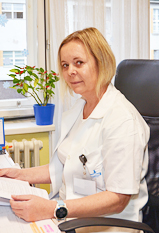 Head Nurse
Bc. Martina Bradová
martina.bradova@ftn.cz
(only 7am to 3.30pm)
+420 261 082 158
---
Contact for
English-speaking guests
Monika Kudelková
monika.kudelkova@ftn.cz
+420 261 083 811
---
Location
buildings B3 and G5
---