Children´s Center with comprehensive health care and family therapy support
Characteristics
In the course of diagnostic, educational and therapeutic programs, comprehensive interdisciplinary treatment is provided to children threatened by living in a drug of abuse environment (smoking, FAS – fetal alcohol syndrome, NRP – neonatal resuscitattion program, Cancer) handicapped children, breastfeeding mothers, pregnant women including adolescent pregnant women facing critical situations, including addicted mothers, however, motivated to accept/receive treatment. The Children´s Center endeavors to promote stability in life, social and emotional relations similar to those existing in a family environment, awareness of identity, sense of belonging to a family, individual stimulation and prospects of an unbounded future.
Children´s needs and the experience of the Children´s Center led to the birth of a foundation "Dětský úsměv" cooperating with a civic association "Malíček" – a volunteer project. Those involved in the treatment of children include pediatricians, physiotherapists, psychologists, and remedial teachers. Many other projects supported by different sponsors are under way such as those involving music therapy, hobby potter group, yoga, healthy farm project, hippotherapy, salt cave therapy, etc. Regular meetings are arranged for what is called "our" foster families to promote a positive relation of children to their past and to serve as a forum to exchange opinions and experience among members of the families involved.
---
Specialized units and facilities
Children immediate help facility
Family department
Department for the mother and child
Practicing mother unit (serving mothers willing/wishing to have discrete (secret) delivery, parents living abroad)
Internal kindergarten for children situated in the Children´s Center
Therapeutic playroom
Spare time space (yoga, music therapy, drama therapy)
Playroom volunteers
Visitors´ room
Snoezellen room
---
Outpatient services
Pediatric services for children discharged from the Children´s Center
Psychological services/counseling for children discharged from the Children´s Center and for their families
Specialized pediatric services for children discharged from the Children´s Center
---
Diagnostic and therapeutic services
Pediatric services (therapy, prevention, diagnosis for foster family care and children with special needs, admission, and final pre-discharge examinations of children)
Physiotherapy (kinesiologic analysis, Vojta´s method, Bobath´s method)
Psychological diagnosis, ie. developmental diagnosis for foster family care, tests of psychomotor development)
Specialized pedagogic diagnosis and therapy
Play therapy
Drama therapy
Music therapy
Yoga
Basal stimulation and therapy in Snoezellen room
---
Education
The Children´s Center arranges visits by Czech and foreign students of Charles University medical schools. The Children´s Center also runs special educational programs for would-be foster family members. Besides, the center cooperates closely with the civic association "Malíček" involved in the training, education and supervision of volunteers. Regular visits to different types of schools are also arranged and students of social care, pedagogues, and psychologists come for hands-on training. Hands-on training is also available to students of MEDEA, a private health care school.
---
Science and research
A project called "Support, prevention and treatment of drug abused mothers and their children since neonatal age has been under way since 1999. The goal of cooperation with SANANIM, a non-profit company is to enhance the mother-and-child bond, and to support maternal competence.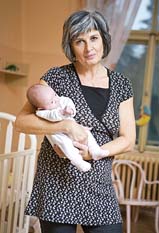 Head of the Centre
Jaroslava Lukešová, MD.
jaroslava.lukesova@ftn.cz
+420 261 081 862
---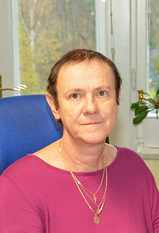 Head Nurse
Pavlína Hrstková
pavlina.hrstkova@ftn.cz
+420 241 715 252
---
Contact for
English-speaking guests
Green Line
+420 800 260 900
(line for pregnant women in critical situations)
---
Operator:
+420 241 715 252
---
Secretary:
Eva Zahradníčková
eva.zahradnickova@ftn.cz
+420 241 714 764
---
Location
Sulická 120, Praha 4 - Krč
---