Department of Psychology
Department of Psychology
Characteristics:
The Department of Psychology provides outpatient and counseling clinico-psychological services for children and adults with no age limits, with services provided upon referral by a physician covered by the health insurance company. In addition to regular diagnostic and psychotherapeutic care, our pediatric clinic focuses on specialized diagnosis and psychological guidance of children with autism-related disorders and children with severe combined impairments since infancy and provides super-consultations in this specialty for all Czech such centers. The clinic for adults performs comprehensive psychological diagnostic examinations at a physician´s request, and individualized cognitive-behavioral therapy of patients with anxiety and somatoform disorders or depression, and group training of relaxation techniques. The department´s staff participates in the práce of the nutrition team, develops comprehensive therapy of eating disroders, and their individualized congitive behvioral therapy. Arrangements can also be made for examinations by persons due to sit for driver´s tests (self-paid patients).
Appointments for examination or admission to the department should be always made prior to visit (given the interest shown by patients, waiting times are fairly long).
Outpatient services
Clinico-psychological clinic for adults – Jana Kříhová, Mgr.
Clinico-psychological clinic for children – Dana Krejčířová, PhDr.
Clinico-psychological clinic for children – Marcela Křížová, Mgr.
Diagnostic and therapeutic procedures
Clinico-psychological examinations of children (ages 0–18 years)
Clinoc-psychological care of children with serious developmental diosrders (including autism-related ones)
Clinico-psychological examinations of adults
Individual psychotherapy of children and adolescents
Cognitive-behavioral psychotherapy of anxiety, depression and somatoform disorders
Eating disorders, obesity
Training in relaxation techniques
Examinations of would-be drivers
Education
The Department of Psychology is accredited by the Ministry of Health of the Czech Republic to run specialty education (theoretical/practical and practical parts) in clinical psychology and the whole educational program in pediatric clinical psychology. The department holds regular supervision seminars for all psychologists employed in Thomayer Hospital and psychologists in specialist training as well as courses for psychologists in the health care system and university students of psychology. The department´s employees are involved in educational programs for nurses and other courses arranged by the Science and Education Center.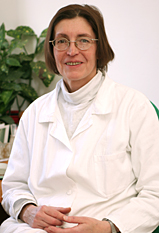 Head of the Department
Dana Krejčířová, PhDr.
tel.: 261 083 426
dana.krejcirova@ftn.cz
Contact for English-speaking guests
Pediatric outpatient unit
Dana Krejčířová, PhDr.
tel.: 261 083 436
(from 6:30 to 7:45 a.m.)
dana.krejcirova@ftn.cz
Marcela Křížová, Mgr.
tel.: 261 083 431
(from 12:30 to 13:00 or from 15:30 to 16:00)
marcela.krizova@ftn.cz
Outpatient Unit for Adults
Jana Kříhová, Mgr.
tel.: 261 083 131
(from 7:00 to 8:00 a.m.)
jana.krihova@ftn.cz
Administration of department:
Romana Vlčková
tel.: 261 082 100
romana.vlckova@ftn.cz